Naked Fingers returns to once again use his voice which seems to assert his natural authority. Regrettably we did not hear the outcome of the hot date from last week – was it cab or coffee?  We need to know.
In her stunning monologue Lucy makes it very clear that she has now seen through Justin and is certain that we shall soon return to the pusscat/Tiger years. As ever Naked Fingers liked her monologue this week.
Meanwhile we all await Lillian's mega-apology to Lynda, could be the largest humble pie Lilian has ever baked.  The last person to make the same mistake was Andrea Leadsom who reminded the UK that Theresa May did not have children – and now she is Leader of the Commons.  Apparently people want Susan to be sacked from Bridge Farm for gossiping (or as some would have it spreading rumours).  I take the view that if you shout about private business to family members then you deserve to be overheard and for your plans to be scuppered.  Of course it will be too late for Bridge Farm to change their minds when Damara's mega plans for more than 100 houses is actually sent for planning approval!
Two new callers this week (Photovoltage and Magic Badger) who make an excellent job of identifying themselves.  New callers always allowed more than 2 minutes, which as Lucy observes is longer than it took Freddie with a johnny and Bonnie.
One request for more background on James and Leonie and I will post on the Forum if I can assemble it.
Finally Goddessdeeva invited us all to her wedding at Glastonbury last Wednesday and she also published this photo of herself!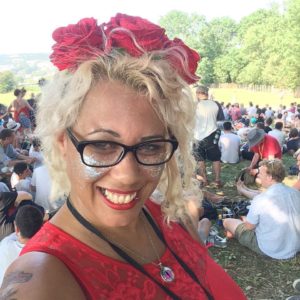 And that is it for this week.
Kosmo
Photovoltage who thinks we've not seen the last of Bonnie
Sussex Shepherd who thinks Lizzie needs help
Magic Badger who thinks Harriet's podcast is called Sandwiches
Goddess Deeva with some very exciting news!
Aunty Jean who's not keen on James
and
Blithe Spirit who thinks Susan's gone too far